Silicon Heatsink
---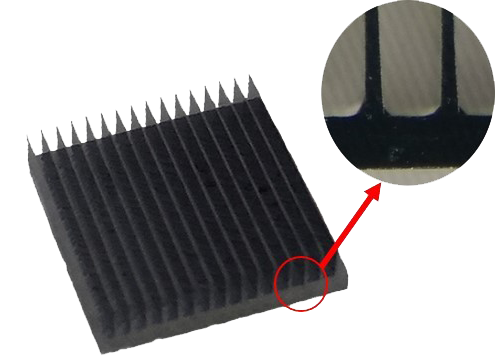 Eotron's Silicon Heatsink is designed to replace compact copper or aluminum heatsinks where the size, space and efficiency of the heatsink is crucial. Our Silicon Heatsink delivers 5 to 10 times more fin-surface area than metal heatsinks of the same size due to silicon's ability to fabricate more fins and as thin as 10μm in size.

Silicon Heatsinks can be used in a convective cooling or forced-air cooling configuration. Depending on the heat dissipation configuration, the base of the Silicon Heatsink can be soldered, epoxied or attached using various thermal compounds directly to any silicon IC chip or PCB.

Our proprietary fabrication techniques produced the most efficient heatsink designs (patented) while using a bulk low-cost process.
Silicon Heatsink Specifications
---
Standard Heatsink Size
10mm(L) x 10mm(W) x 1.2mm(H)
Silicon Heatsink Base Thickness
>0.2 to 0.3mm
Silicon Fin Thickness
30 to 75μm tapered shape (US Patent)
Silicon Fin Pitch
0.3 to 0.5mm depending on forced-air or not
Surface Finish
Less than 0.1μm
Special Enhancements

Edge surface smoothing (Prevents chipping/cracking)
Round-corner design for better thermal performance
Backside metallization (Optional)
*** Custom size and fin design is also available.
Application Notes (Coming soon)
---
Please contact us for further information at sales@eotron.com.